Podcast: Play in new window | Download (Duration: 46:18 — 42.4MB)
Subscribe: Apple Podcasts | Google Podcasts | Stitcher | RSS | More
 Welcome to part 2 of our conversation with "Pat" the interventional radiologist. In this section we go further down the glass and talk about DDR, hobbies, Malort, and more. We're drinking Moscow Mules in this section made with ASW's American Spirit Whiskey. They were delicious. 
    If you enjoy the episode be sure to like us and leave a comment on Apple Podcasts. Show us some love on Twitter @wastedkpodcast. Send us an email wastedknowledgepodcast@gmail.com We finally have a Patreon page where you can leave us a tip and check out this whole interview with extras like trolls, whiskey, and integrity.  We will also start adding our Patrons to the written and audio credits!
If you are or will be in the Atlanta, GA area and want to talk to us about what you do, send us your INFO and we'll figure out how to get you on. Cheers!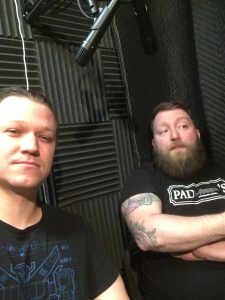 "Pat's" now have a mask to wear for selfies :-D. Also, TC looks suspicious of something.